AIM ImmunoTech Selected to Present at the 3rd Annual Marie Sklodowska-Curie Symposium on Cancer Research and Care
/EIN News/ -- OCALA, Fla., Sept. 22, 2023 (GLOBE NEWSWIRE) -- AIM ImmunoTech Inc. (NYSE American: AIM) ("AIM" or the "Company") today announced Chris McAleer, Ph.D., Scientific Officer of AIM will present at the 3rd Annual Marie Sklodowska-Curie Symposium on Cancer Research and Care being held at the Roswell Park Comprehensive Cancer Center in Buffalo, N.Y., September 20-22, 2023. In addition to the presentation, the Company is proud to announce its sponsorship of the event.

Details for the presentation are as follows:
Title: Rintatolimod (Ampligen®): Overview of Ampligen's Clinical Progress in Oncology
Presenter: Christopher McAleer, Ph.D.
Session: Session 7: Team Science: National and International Collaborations with NGOs, Academia, Pharma, & Biotech
Date: Friday, September 22, 2023
For more information about the conference, visit: https://www.roswellpark.org/msc-symposium.
The presentation will be available on the AIM website once presented at the conference.
About AIM ImmunoTech Inc.
AIM ImmunoTech Inc. is an immuno-pharma company focused on the research and development of therapeutics to treat multiple types of cancers, immune disorders and viral diseases, including COVID-19. The Company's lead product is a first-in-class investigational drug called Ampligen® (rintatolimod), a dsRNA and highly selective TLR3 agonist immuno-modulator with broad spectrum activity in clinical trials for globally important cancers, viral diseases and disorders of the immune system.
For more information, please visit aimimmuno.com and connect with the Company on Twitter, LinkedIn, and Facebook.

Investor Contact:
                    
                    JTC Team, LLC
                    Jenene Thomas
                    (833) 475-8247
                    AIM@jtcir.com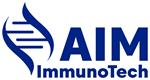 Powered by


EIN Presswire does not exercise editorial control over third-party content provided, uploaded, published, or distributed by users of EIN Presswire. We are a distributor, not a publisher, of 3rd party content. Such content may contain the views, opinions, statements, offers, and other material of the respective users, suppliers, participants, or authors.
Submit your press release